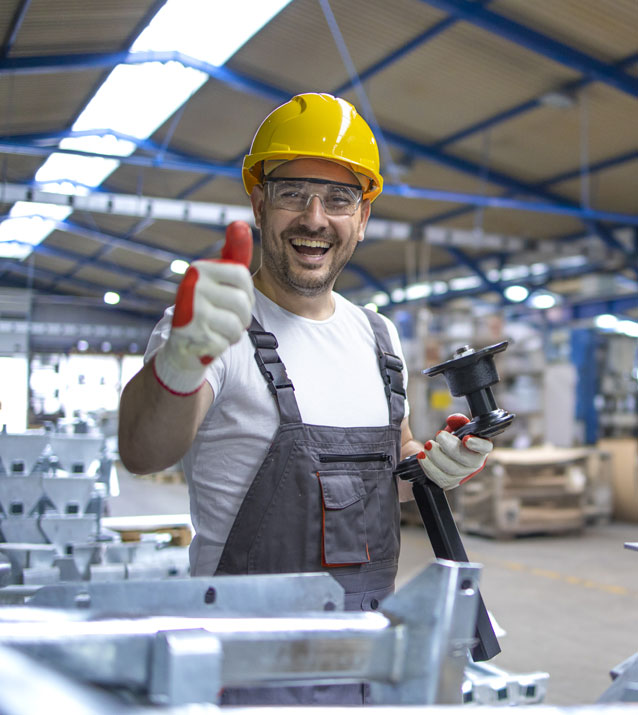 ELAB Engineering - We are the leading manufacturers of Educational Engineering Training Systems and Equipment for teaching in high schools, institutes, universities, and colleges. ELAB Engineering Training Systems has been rendering its service for the past many years in the field of education. By adopting latest technology, the production process of our training systems and teaching equipment is continuously upgraded and integrate with latest technologies.
ELAB Engineering has ventured into massive expansion program to cater to the need of growing market. ELAB Engineering has positioned itself as one of the most outstanding manufactures of engineering educational training systems in the technical training systems sector.
ELAB Engineering providse superior quality educational training syatems as well as educational training equipments designed for high-schools, engineerimg institutes, technical training colleges and universities. With after- sales service as our motto we continuous keep in touch with our valued customers in order to provide them better service. We have been able to secured huge clientele exporting these engineerinh education equipments to more than 65 countries. We aspire to build trust and confidence of our esteemed customers by supplying them with high-precision equipments and instruments.
We are equipped with a well-organized production unit that is instrumental in carrying out production in bulk quantities catering to timely requirements of customers. In addition to this, we are backed by a team of qualified professionals, who integrate latest technology with their skills to produce flawless training systems equipments. Our highly motivated and high-performance staff members develop and create our high quality training systems in our state-of-the-art infrastructural unit that forms the foundation stone of the company. Our expert team has been instrumental in accelerating deliveries within stipulated time frame.
We provide high-quality training systems that are manufactured using latest technologies. All our engineering training products come with easy to comprehend manuals to make the understanding of engineering concepts and ideas clear in an effective manner. These vocational engineering training systems, alongwith their manuals, make the principles of engineering easy and interesting to learn.
Hydraulics Mechanics Lab Equipments | Engineering Lab Equipments Exporters | Engineering Equipments Manufacturers
ELAB School Lab Uganda | ELAB Education Lab Zambia | ELAB Testing Lab Zimbabwe | ELAB Testing Lab Trinidad Tobago | ELAB Engineering Lab UAE | ELAB Engineering Lab Swaziland ELAB School Lab Syria ELAB Education Lab Tanzania ELAB Education Lab Sri Lanka ELAB Testing Lab Sudan ELAB Testing Lab Serbia ELAB Engineering Lab Sierra Leone ELAB School Lab South Africa ELAB School Lab Saint Lucia ELAB Education Lab Saudi Arabia ELAB Education Lab Philippines ELAB Testing Lab Qatar ELAB Engineering Lab Rwanda ELAB Engineering Lab Oman ELAB School Lab Papua New Guinea ELAB School Lab Namibia ELAB Education Lab Nepal ELAB Testing Lab Nigeria ELAB Testing Lab Morocco ELAB Engineering Lab Mozambique ELAB School Lab Mexico ELAB Education Lab Mongolia ELAB Education Lab Malaysia ELAB Testing Lab Maldives ELAB Engineering Lab Mauritius ELAB Engineering Lab Madagascar ELAB School Lab Malawi ELAB School Lab Kenya ELAB Education Lab Kyrgyzstan ELAB Testing Lab Lebanon ELAB Testing Lab Jordan ELAB Engineering Lab Kazakhstan ELAB Engineering Lab India ELAB School Lab Iraq ELAB Education Lab Israel ELAB School Lab Guatemala ELAB Education Lab Guinea ELAB Testing Lab Hong Kong ELAB Engineering Lab Greece ELAB School Lab Gabon ELAB Education Lab Gambia ELAB Testing Lab Georgia ELAB Engineering Lab Ghana ELAB Engineering Lab Egypt ELAB Engineering Lab Ethiopia ELAB School Lab Djibouti ELAB Education Lab Dubai ELAB Testing Lab Ecuador ELAB Testing Lab Congo ELAB Engineering Lab Cyprus ELAB Engineering Lab Cameroon ELAB School Lab Chile ELAB Education Lab Colombia ELAB Engineering Lab Burkina Faso ELAB Testing Lab Cambodia ELAB Engineering Lab Bhutan ELAB Engineering Lab Bolivia ELAB Engineering Lab Brazil ELAB Engineering Lab Bahrain ELAB Engineering Lab Bangladesh ELAB Engineering Lab Argentina ELAB Engineering Lab Armenia ELAB Engineering Lab Azerbaijan ELAB Engineering Lab Afghanistan ELAB Engineering Lab Albania ELAB Engineering Lab Algeria ELAB Engineering Lab Angola

ELAB School Lab Equipment #Uganda
ELAB Education Lab Equipment #Zambia
ELAB Testing Lab Equipment #Zimbabwe
ELAB Testing Lab Equipment #Trinidad Tobago
ELAB Engineering Lab Equipment #UAE
ELAB Engineering Lab Equipment #Swaziland
ELAB School Lab Equipment #Syria
ELAB Education Lab Equipment #Tanzania
ELAB Education Lab Equipment #Sri Lanka
ELAB Testing Lab Equipment #Sudan
ELAB Testing Lab Equipment #Serbia
ELAB Engineering Lab Equipment #Sierra Leone
ELAB School Lab Equipment #South Africa
ELAB School Lab Equipment #Saint Lucia
ELAB Education Lab Equipment #Saudi Arabia
ELAB Education Lab Equipment #Philippines
ELAB Testing Lab Equipment #Qatar
ELAB Engineering Lab Equipment #Rwanda
ELAB Engineering Lab Equipment #Oman
ELAB School Lab Papua New Equipment #Guinea
ELAB School Lab Equipment #Namibia
ELAB Education Lab Equipment #Nepal
ELAB Testing Lab Equipment #Nigeria
ELAB Testing Lab Equipment #Morocco
ELAB Engineering Lab Equipment #Mozambique
ELAB School Lab Equipment #Mexico
ELAB Education Lab Equipment #Mongolia
ELAB Education Lab Equipment #Malaysia
ELAB Testing Lab Equipment #Maldives
ELAB Engineering Lab Equipment #Mauritius
ELAB Engineering Lab Equipment #Madagascar
ELAB School Lab Equipment #Malawi
ELAB School Lab Equipment #Kenya
ELAB Education Lab Equipment #Kyrgyzstan
ELAB Testing Lab Equipment #Lebanon
ELAB Testing Lab Equipment #Jordan
ELAB Engineering Lab Equipment #Kazakhstan
ELAB Engineering Lab Equipment #India
ELAB School Lab Equipment #Iraq
ELAB Education Lab Equipment #Israel
ELAB School Lab Equipment #Guatemala
ELAB Education Lab Equipment #Guinea
ELAB Testing Lab Equipment #Hong Kong
ELAB Engineering Lab Equipment #Greece
ELAB School Lab Equipment #Gabon
ELAB Education Lab Equipment #Gambia
ELAB Testing Lab Equipment #Georgia
ELAB Engineering Lab Equipment #Ghana
ELAB Engineering Lab Equipment #Egypt
ELAB Engineering Lab Equipment #Ethiopia
ELAB School Lab Equipment #Djibouti
ELAB Education Lab Equipment #Dubai
ELAB Testing Lab Equipment #Ecuador
ELAB Testing Lab Equipment #Congo
ELAB Engineering Lab Equipment #Cyprus
ELAB Engineering Lab Equipment #Cameroon
ELAB School Lab Equipment #Chile
ELAB Education Lab Equipment #Colombia
ELAB Engineering Lab Equipment #Burkina Faso
ELAB Testing Lab Equipment #Cambodia
ELAB Engineering Lab Equipment #Bhutan
ELAB Engineering Lab Equipment #Bolivia
ELAB Engineering Lab Equipment #Brazil
ELAB Engineering Lab Equipment #Bahrain
ELAB Engineering Lab Equipment #Bangladesh
ELAB Engineering Lab Equipment #Argentina
ELAB Engineering Lab Equipment #Armenia
ELAB Engineering Lab Equipment #Azerbaijan
ELAB Engineering Lab Equipment #Afghanistan
ELAB Engineering Lab Equipment #Albania
ELAB Engineering Lab Equipment #Algeria
ELAB Engineering Lab Equipment #Angola